Vegan strawberry shortcakes made from sweet fluffy biscuits layered with fresh juicy strawberries and decadent coconut whipped cream.
Skip the store-bought cakes, it's super easy to make this vegan strawberry shortcake recipe from scratch for an absolutely delicious summer dessert.
How to Make Vegan Strawberry Shortcake
I grew up eating "strawberry shortcake" made with those grocery store dessert shells. You know, those gooey cake-like bowls whose first ingredient is sugar? I hadn't even had real strawberry shortcake until they were served at my best friend's baby shower!
I adore soft vanilla sponge cake, layered with cream and fresh berries. (And I have an upcoming recipe modeled after those gorgeous and popular Japanese cakes!) But that is not strawberry shortcake.
Strawberry shortcake is made with shortcake: a sweet biscuit made with butter or shortening that is cut into flour, instead of creamed or stirred. Luckily, it's not hard to make strawberry shortcake vegan!
Since I love biscuits, I've been trying out all sorts of variations of homemade biscuits over the past few years. I adapted my favorite biscuit recipe to make these fluffy and slightly sweet biscuits for an easy vegan strawberry shortcake.
This dessert looks fresh and gorgeous, but all the components are so simple to make.
Here's what makes this vegan strawberry shortcake recipe really shine:
Easy to prep in advance. The biscuits can be made 3 or 4 days in advance, and the strawberries and coconut whipped cream can be made the day before. Then all you have to do is assemble your vegan strawberry shortcake, and eat!
Fun food for kids or guests to make themselves. When I serve vegan strawberry shortcake, I usually set out sliced biscuits and bowls of whipped cream and strawberries, and let people create their own concoctions. It's way more fun, and everyone gets as much of that decadent coco-whip as they want.
Make it your own. The base vegan strawberry shortcake recipe is simple and delicious. But I always encourage you to adapt the fruit and flavorings to suit your own tastes. Try it with fresh blackberries, or smoked peaches! Add strawberry or almond extract to the coconut whipped cream. Fruit desserts are so flexible, so you can use whatever fruit is in season.
The most important thing to remember with vegan strawberry shortcake is that they should be eaten immediately! So, if you are bringing the dessert to a barbecue (or a baby shower), you should take biscuits, strawberries, and whipped cream, and then assemble them at the location.
Okay, time to break down what makes each of those parts so special.
Fluffy sweet biscuits
These vegan biscuits are the perfect base for your vegan strawberry shortcakes. The biscuits are golden brown and crusty on the outside while staying soft and fluffy on the inside. They are just a touch sweet, with some coarse sugar sprinkled on top for a bit of extra crunch.
Muddled macerated strawberries
Sliced strawberries are sprinkled with sugar to allow the strawberries to macerate, so their juices are released into a delicious liquid.
The secret to making the strawberry filling taste sweet and syrupy, without adding much actual sugar, is to muddle a handful of the strawberries. Just smash a few strawberries with some sugar to help release extra juice more quickly.
Muddling the strawberries is especially important if you can't make them ahead of time, or if you are using strawberries that aren't very ripe or sweet.
However, if you have some amazing fresh strawberries that are perfectly ripe and sweet, you can serve this vegan strawberry shortcake without even adding any sugar to the strawberries. Just slice them up and they'll taste great with the sweetened whipped cream.
Easy coconut whipped cream
Whipped cream made from coconut cream is rich and decadent and so easy to make. It takes just three ingredients and a couple of minutes with a handheld beater or a stand mixer. The hardest part is remembering to stick the cans in the fridge the night before.
Strawberries and coconut whipped cream is such a fantastic combo. I usually end up with some extra of both after we've finished all the biscuits, and no one complains when they get served a bowl with just that.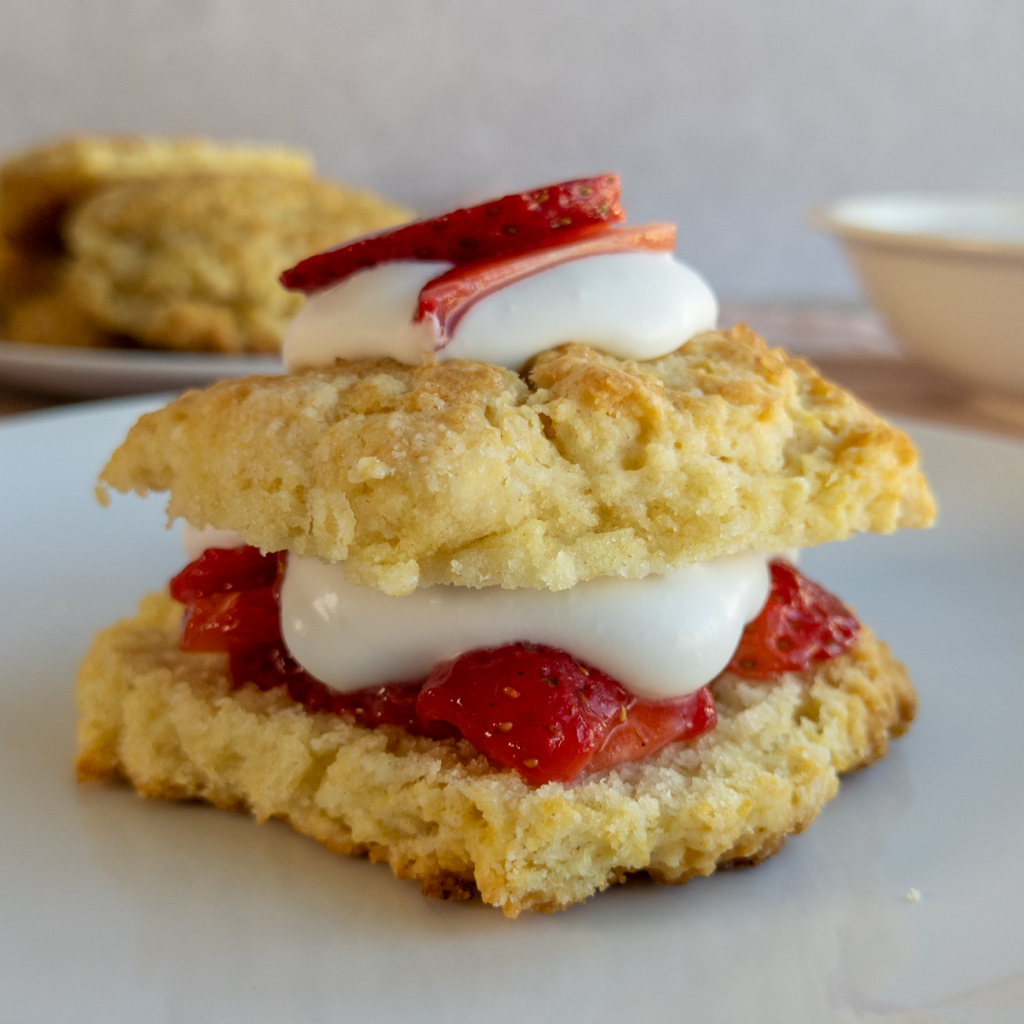 Look for cans of coconut cream, which have more of the white coconut solids that we use here, and less of the coconut water, per can.
If all you can find is full fat coconut milk, that works as well. It might take two cans of coconut milk to get as much coconut solids as a single can of coconut cream. I would definitely avoid the "light coconut milk" as this just doesn't have enough fat to solidify and be turned into whipped cream.
If you don't have time to make coconut whipped cream (or you forgot to stick the cans in the fridge the night before), there are some amazing plant-based alternatives you can find in stores. Reddi-Wip has a vegan whipped cream in a can (also coconut-based) that provides that great nostalgic spray. And So Delicious has a coco-whip in a tub that is just like cool whip, it's amazing.
I actually don't know of any coconut-free vegan whipped cream that you can buy in stores, so if you have a lead on that, please let me know down below so I can add it in for those with allergies.
Final Thoughts
I know you will love these vegan strawberry shortcakes, so get baking already!
Don't forget to tell me what you think in the comments down below, and share the recipe if you like it.
Q&A
How can I make gluten-free vegan strawberry shortcakes?
Easy! Just sub the all-purpose flour with a 1-to-1 gluten-free baking flour (like from Bob's Red Mill or King Arthur ), and make sure the baking powder and powdered sugar are gluten-free as well.
Will these vegan strawberry shortcakes keep overnight?
Not really. While all the individual components (the strawberries, whipped cream, and biscuits) can be easily made ahead of time, you definitely should eat strawberry shortcake as soon as it's assembled.
I don't even recommend putting the shortcakes together a few hours ahead of time, because the juicy strawberries can quickly make the shortcake soggy, and the whipped cream will melt into the strawberry juice. The dessert is best served fresh.
Ingredients and Substitutions
Strawberries. Okay, I know this is strawberry shortcake, but it also is fantastic with sliced peaches (from a can works!), banana, or other fresh berries. If mixing in other fruit sounds good to you, I'm sure it'll taste great.
All-purpose flour. Low-protein pastry flour works great for the biscuits, but avoid using high-protein bread flour. You can substitute the AP flour with a 1-to-1 gluten-free baking flour for a gluten-free version of this dessert.
Soy milk. Any plant-based milk will work. I like to use soy milk because it has protein and fat and curdles nicely for the buttermilk.
Lemon juice. You can use white vinegar or apple cider vinegar instead.
Coconut cream. You can use 2 cans of full-fat coconut milk instead. Don't use the light stuff, it won't thicken enough when cold.
Vegan butter. If you can't find unsalted vegan butter, then salted works fine, just use 1/4 tsp less salt in the biscuits. I definitely recommend looking for the sticks, because they have lower water content, and they are easier to measure and cube.
Yield: 6-8 strawberry shortcakes
Vegan Strawberry Shortcake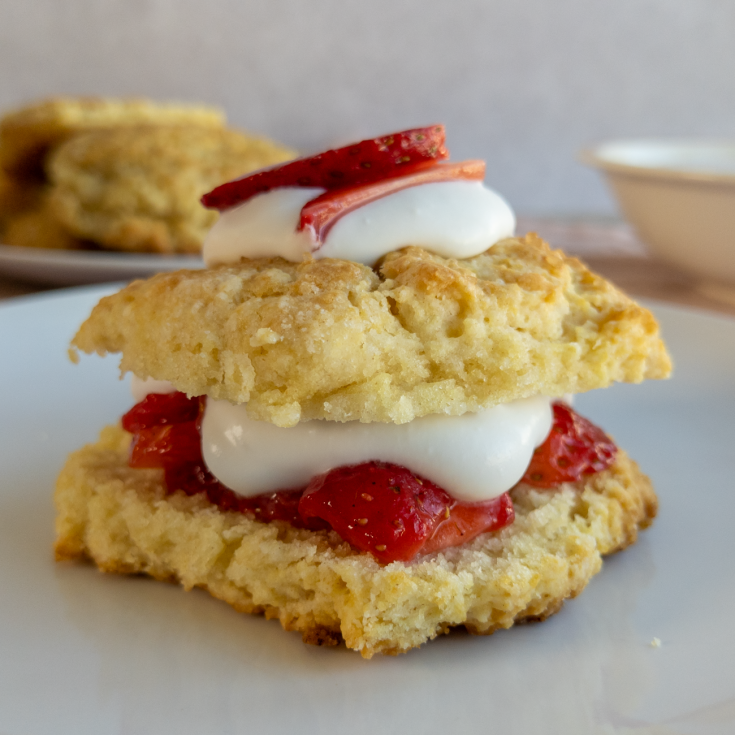 Vegan strawberry shortcakes made from sweet fluffy biscuits layered with fresh juicy strawberries and decadent coconut whipped cream. Skip the store-bought cakes, now everyone can make this easy vegan strawberry shortcake recipe from scratch for an absolutely delicious summer dessert.
Ingredients
Strawberries
3 cups strawberries, sliced
2 Tbsp granulated sugar
Coconut whipped cream
one can coconut cream, chilled overnight
3 Tbsp powdered sugar
1/2 tsp vanilla
Sweet biscuits
1/2 cup soy milk, cold
1/2 Tbsp lemon juice
1 1/2 cup (192g) all-purpose flour
1 Tbsp baking powder
1/2 tsp salt (use half if using salted butter)
2 Tbsp granulated sugar
6 Tbsp (1 1/2 sticks) unsalted vegan butter, cold and cut into small cubes
coarse sugar, for sprinkling on top
Instructions
Preheat the oven to 425°F. Line a baking sheet with parchment paper or a silicone mat.
Make the strawberries. Add 1/2 cup of strawberries to a medium bowl and sprinkle with half the sugar. Muddle it up roughly with a fork or potato masher. Add the remaining strawberries and sugar, and stir it all together. Let the strawberries sit in the fridge so they get all syrupy.
Make vegan buttermilk by adding the lemon juice to the soy milk. Let this rest in the fridge to curdle. Reserve 1 Tbsp for brushing the tops of the biscuits.
Mix the dry ingredients. Add the flour, baking powder, salt, and granulated sugar to a large bowl and whisk to combine.
Add the cold butter to the dry ingredients. Use a pastry cutter or fork to combine until the mixture resembles a coarse meal.
Pour the vegan buttermilk (except for that 1 tablespoon reserved) into the dough mixture, and fold together with a large wooden spoon or sturdy spatula until it just begins to come together. The dough will be crumbly and shaggy and may have some wet spots. Don't overwork it!
Form the biscuits. Pour the dough onto a floured work surface. With floured hands, gently shape it into a rough square big enough to cut out four biscuits. Using a large circle cutter (or a narrow drinking glass), cut out 4 biscuits. Reform the scraps to cut an additional 2-3 biscuits.
Prepare the biscuits. Arrange the biscuits closely on the baking sheet so their edges are touching. Brush the tops with 1 Tbsp buttermilk or melted butter and sprinkle with coarse sugar.
Bake the biscuits. Bake at 425 for 15-18 minutes or until golden brown on top. Let the biscuits cool for 10 minutes before slicing and assembling.
Whip up the coconut cream. Take the can of coconut cream out of the fridge, and don't shake it up. Scoop off the solid coconut cream into a mixing bowl, leaving the coconut water in the can. Add the powdered sugar and vanilla. Using an electric or stand mixer, whip the cream until it is smooth and fluffy. (This will be more like breaking down solid chunks of coconut cream.)
Assemble! Cut the biscuits in half. Fill the biscuits with the strawberries and whipped cream. Serve immediately.
Notes
Food Processor: You can make the dough in a food processor as well. Pulse to combine the dry ingredients, then add cold, cubed butter and pulse until you have coarse crumbs. Pour this into a large bowl before adding the vegan buttermilk and mixing by hand.
Substitutions:
Try out other fruit, like peaches, bananas, or berries.
Any plant-based milk can be used instead of soy milk.
White vinegar or apple cider vinegar can be used for lemon juice.
Use gluten-free flour to make the recipe gluten-free.
2 cans of full-fat coconut milk can be subbed for the coconut cream.
Biscuit forming tips:
Don't twist the cutter or you'll seal the edges of the biscuits and prevent them from rising as well.
You can also gently shape biscuits by hand for a rustic look, or even cut square shapes with a knife. Make them your own.
Make-Ahead: You can make all the components of these strawberry shortcakes ahead of time, and then assemble them just before you want to eat them.
The strawberries actually taste better if you make them the night before, since it gives more time for the juices to ooze out and form a syrup with the sugar.
The whipped cream can be made the night before. Store it in the fridge. It may need a quick whip with a whisk to soften it up again.
The biscuits can be made up to 4 days in advance. Store them covered at room temperature.
Nutrition Information:
Yield:
6
Serving Size:
one strawberry shortcake, with whipped cream and strawberries
Amount Per Serving:
Calories:

275